Exhibiting firms that would like to partecipate in the 136th Veronafil should send, within and not later than 18 April 2023, a written application to the Association along with an advance payment for the 50% of the costs of the hiring of facilities and equipment needed.
The payment should be effected by money order, bank transfer or cheque to:
BANCO BPM Dip. 0023 VERONA AG. 9
IBAN: IT80 B 05034 11723 000000100243
CODICE SWIFT: BAPPIT21023
Telephone reservations will not be accepted unless confirmed by letter along with the advance payment; fax reservations will be accepted only after receiving the advance payment required.
Applications sent later than the above time terms might be accepted , in chronological order of arrival, only if any stalls or stands are still available.
| DATES | ACCESS TIMES FOR DEALERS | CLEARING TIME |
| --- | --- | --- |
| Thursday 18 May 2023 | 11,00 - 18,00 | - |
| Friday 19 June 2023 | 8,30 - 10,00 | - |
| Saturday 20 June 2023 | 8,30 - 9,00 | - |
| Sunday 21 June 2023 | 8,30 - 9,00 | 13,00 - 18,30 |
For exhibiting firms the closing time is 6.30 p.m. on Friday and Saturday. During the mounting of the exhibiton only the registered dealers with "pass for pedestrians" will be allowed into the area.
How to pay and get the entry pass to the exposition area.
The dealers that effect the settlement of the payment within 18 April 2023 will receive the entry pass for loading and unloading operations and parking together with the personal pass by post.
The dealers that haven't still effected the complete payment will not be allowed to get into the exposition area. After paying they will be given the entry pass and all the loading and unloading operations can be effected (pad. 9) and parking only one car for dialer!
Every pass will bear a number, the dealer' s name and the number of the stand inside the pavillon.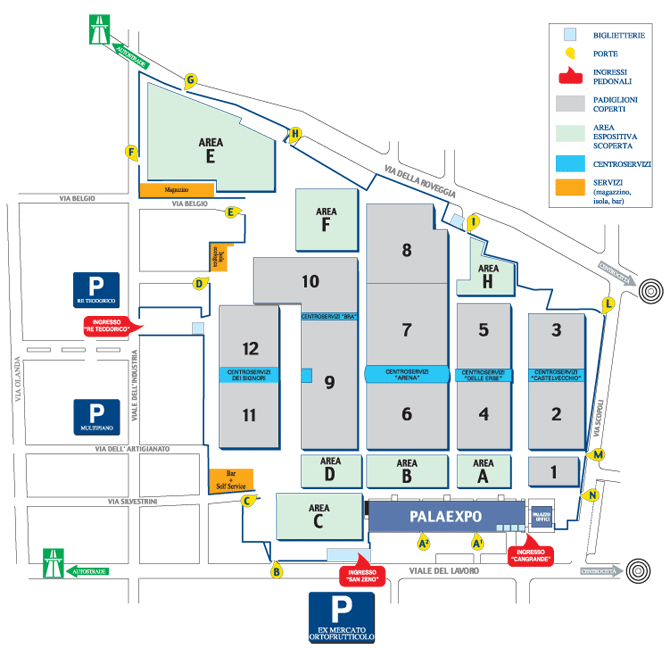 Exhibiting firms must have the specific authorization for dealers.
NOTE:
Even if a large parking lot is available the Association can grant only one parking place for each exhibitor, because of the large attendance.


By law the organizers must use fireproof equipment so exhibiting firms will have to use only the tables, stalls and other equipement hired.